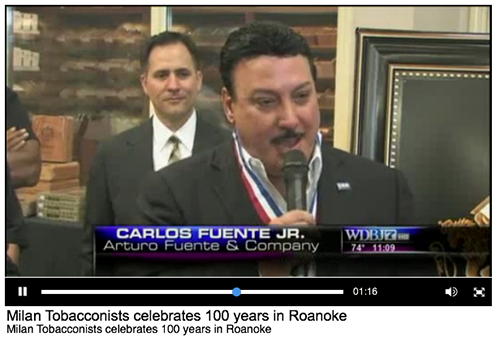 Joe Dashiell Reporter
10:26 p.m. EDT, May 26, 2012
ROANOKE, Va.
The air was thick with cigar smoke, the shop crowded with loyal customers, as David and Renee Meyer celebrated Milan Tobacconists' 100 year history.
"I've seen pictures of Roanoke back in the heyday," David Meyer told us, "And you look down the street and you see four or five tobacco shops. Milan's is the only one left."
The day included recognition from state and local leaders, and emotional moments from the current owners. Renee Meyer's father purchased the business from the Milan family in 1994.
"None of this would be achievable if it weren't for the Milans," Renee Meyer told tthe crowd, "and the Roys and then the customers and the patrons, who've been so wonderful in supporting this adventure of ours."
The guest of honor was Carlos Fuente Jr., the President of Arturo Fuente & Company, one of the world's leading makers of premium cigars.
"Milan Brothers, Milan Tobacconists, I've known for a long time," Fuente said. "As a young man, little boy, I used to pack orders for this company."
His company is also celebrating its 100th anniversary in 2012.
"It's something that is achieved through only love," Fuente said in an interview, "and a commitment that is greater than the business itself."
Despite the struggles that every small business faces, and challenges that are specific to the tobacco industry, Renee and David Meyer are optimistic that quality products and personal service will continue to pay off.
And while a special guest signed cigar boxes, and customers lined up to buy his products, the Meyers were opening a new chapter in the history of an enduring local business.
Copyright © 2012, WDBJ7-TV