LIANA FUENTE
Vice President, Brand Development
- The Fuente Companies.
My grandfather once told me, "If you do not see the smoke from my cigar and you do not smell my aftershave, you're too far. I want you right next to me, learning everything I know."

As a member of the next generation, I want to continue to make my family proud as well as leave my own mark on this beautiful industry. The goal is to keep this family business going - strong, innovative and into the next century keeping the teachings of those that came before me.
As the Vice President of Brand Development, Liana oversees all of the marketing initiatives for Arturo Fuente's various business and charitable endeavors, including advertising, public relations, media relations, promotions and special events. In addition, she manages Arturo Fuente's online presence via its official website and various social media accounts.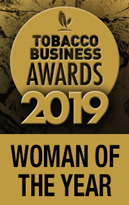 Aside from this formal role, Liana is also a member of the legendary Fuente cigar family. The Cuban-born patriarch of this family, her great-grandfather Arturo Fuente, founded A. Fuente & Company, in Ybor City in 1912. As a fourth-generation cigar maker, Liana travels extensively around the world representing and showcasing both Arturo Fuente, and the Fuente family at numerous events, trade shows, conventions, galas and the like.
Prior to joining Arturo Fuente, Liana attended both the University of South Florida and Eckerd College where she graduated with distinction with a Bachelor of Arts in Business. A very positive and spiritual person, she is an avid lover of all that life has to offer, especially her loving family, great friends and wonderful dogs. Liana actively sits on the Board of Tampa Connection and the Board of Cigar Family Charitable Foundation. She also is a representative for the Fuente Family Foundation.
Liana, the granddaughter of the late Carlos Fuente, Sr. and daughter of Carlos Fuente, Jr., currently resides with her husband, Manuel García, Esq., in her hometown of Tampa, Florida.